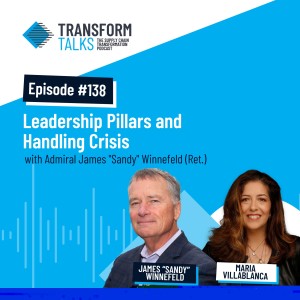 Thursday Mar 17, 2022
#138 - Leadership Pillars and Handling Crisis with Admiral James "Sandy" Winnefeld (Ret.)
On this episode of Transform Talks, James "Sandy" Winnefeld, Joint Chief of Staff with the US Navy, joins host Maria Villablanca. 
Sandy has served in the US Navy for 43 years. He graduated from Georgia Tech in 1978 with honors in Aerospace Engineering. 
He served as an instructor at the Navy Fighter Weapons School, also known as TOPGUN, and has served in several tours abroad, including the Gulf War, the Afghanistan War, and the Iraq War. 
In this episode, Maria and Sandy dive into the details of the current situation in Ukraine and Putin's goals in the region. Sandy takes us back into what led up to the recent events. He also details the corner that Russia is backing itself into.
Sandy shares the effects that rippled across supply chains in Europe and the globe. He also gives his take on pillars of successful leadership and how these qualities can stand out in times of crisis. 
Other concerns resonating from the war in Ukraine are discussed, from cyberattacks and cyber defense to looming apprehensions over China and Taiwan. Sandy also gives insight into staying positive above all the negativity in the world.