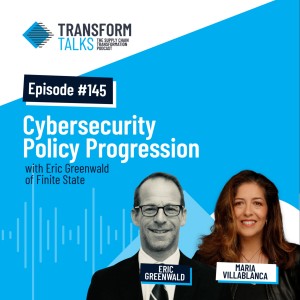 Thursday Jun 02, 2022
#145 - Cybersecurity Policy Progression with Eric Greenwald of Finite State
On this episode of Transform Talks, Eric Greenwald, General Counsel at Finite State, joins host Maria Villablanca. 
Eric brings an extensive background, with 20 years serving as a lawyer and working his way up with the U.S. Federal Government; from chief counsel at Capitol Hill to national security council at the White House. He also served as senior director for Cybersecurity and as special assistant to President Obama.
With this wealth of experience, Eric shares intriguing perspectives on cybersecurity. He agrees that the question is more of a business risk issue than an IT issue. It's only in recent times that businesses are widely accepting this view. If IT systems fail, entire companies could go offline. This greater liability brings attention and also policy change.
Eric sheds light on the most pressing policy changes likely to occur in the near term. He also recalls several instances in the past, where companies dodged the lack of regulation while knowingly committing 'toxic torts.' 
With supply chain, Eric believes that the most significant risks relate to software and hardware. Many people are still unaware of the vulnerabilities that could impact their business. Listen to the episode to hear more of Eric's expertise.