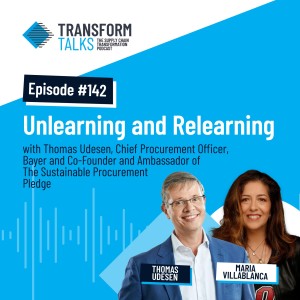 Thursday Mar 31, 2022
#142 - Unlearning and Relearning with Thomas Udesen of The Sustainable Procurement Pledge
On this episode of Transform Talks, Thomas Udesen, Co-Founder and Ambassador of The Sustainable Procurement Pledge and Chief Procurement Officer at Bayer, joins host Maria Villablanca. 
Thomas and Maria discuss sustainability surrounding procurement and supply chain. Thomas makes the point that sustainability concerns begin with acknowledging past faults. People in power need to embrace vulnerability and curiosity and accept that the road ahead may not be as abundant as in the last few decades.
The Sustainable Procurement Pledge was founded to address sustainability as a group of industry peers instead of as an individual company. Thomas says the pledge is about incentivizing companies to take action toward sustainability. 
Of course, profits and associated costs of the supply chain are at the forefront. Thomas points out it's a process of unlearning with the openness to relearn. 
Both being Gen Xers, Thomas and Maria challenge their generation and highlight that their age range has a unique opportunity to shift this mindset and impact change. 
Thomas delves into some of the most significant hurdles toward rethinking sustainability. Listen to the episode now to learn more.