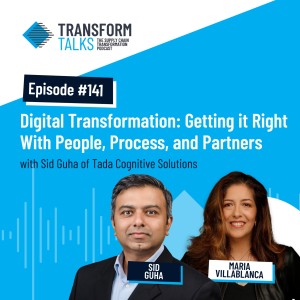 Wednesday Mar 30, 2022
#141 - Digital Transformation: Getting it Right With People, Process, and Partners with Sid Guha of Tada Cognitive Solutions
On this episode of Transform Talks, Sid Guha, Senior Director at Tada Cognitive Solutions, joins host Maria Villablanca. 
Sid has 17 years of transformative experience in supply chain. He shares a plethora of knowledge on digital transformation and critical factors to consider in implementation. 
One is synchronizing customer expectations of solving a problem with the actual business use case. Then, it's about understanding the economic value of that change. 
When dealing with multi-year transformation projects, Sid emphasizes the necessity of breaking them down into smaller chunks. Clarify what the two-week business case is, and only move forward once that's been successfully implemented. If there's a hiccup in the change, no problem—dealing with the smaller scale of change makes it easier to revert back to how things were before and to try again. 
Sid gives insights into the recipe for an optimal digital transformation. Consider the process, the data, the partners, all coming together. How will people interact with it, and how will they make decisions?
Sid and Maria delve into supply chain control towers and their function in digital transformation. Sid also highlights other tips to maneuver and respond successfully during project implementation.