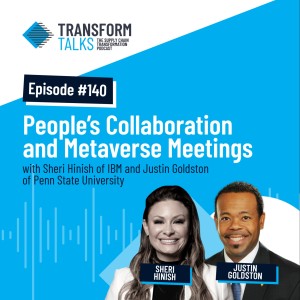 Thursday Mar 24, 2022
#140 - People's Collaboration and Metaverse Meetings with Sheri Hinish of IBM and Justin Goldston of Penn State University
On this episode of Transform Talks, Sheri Hinish, Global Sustainability Services Lead at IBM, and Justin Goldston, Professor and Coordinator of Project and Supply Chain Management at Penn State University, joins host Maria Villablanca. 
Justin, Sheri, and Maria discuss the overwhelming amount of emerging technology. Between NFTs, ESG, blockchain, AI, and more, it's easy to lose track of where the real opportunity lies. 
Justin points out that no one has to listen to anyone else. It's a matter of figuring out priorities as an individual or organization. Then pursue education in the most relevant and valuable fields. 
Sheri complements this by remembering what gets her out of bed every morning. This is much more important than whatever problems or information overload keeps you up at night. 
Sheri encourages practical applications of value-based leadership and identifying self-authenticity. 
Justin delves into the metaverse, DAO, and its utilization in the education and business sectors. 
Listen to the episode now to learn more.
References: