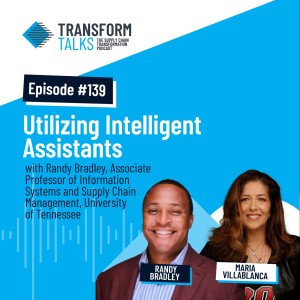 Wednesday Mar 23, 2022
#139 - Utilizing Intelligent Assistants with Randy Bradley, Associate Professor of Information Systems and Supply Chain Management, University of Tennessee, Knoxville
On this episode of Transform Talks, Randy Bradley, Associate Professor of Information Systems and Supply Chain Management,  University of Tennessee, Knoxville, joins host Maria Villablanca. 
Randy begins by discussing Intelligent Assistants (IA) versus Artificial Intelligence (AI). A solution, tool, model, or algorithm will make decisions rather than augment the talent. He believes thinking about it in this manner will help understand the utilization of the technology. 
Randy has decades of experience in supply chain and IT research and strategy. The advice he gives on rethinking the way technology is invested in and deployed can make all the difference for businesses. It's a business need, not a technological need.
He breaks down how more focus should be placed on improving the workforce experience. Decisions with the greatest impact may be made at the C-suite level, but they're infrequent. So, decisions affecting operations on the ground level happen all the time.
Listen to the episode now to learn more timely technological advice from Randy.
References: