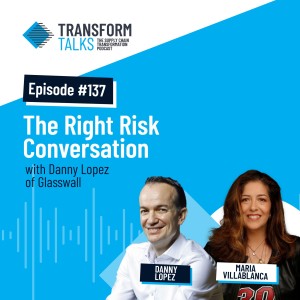 Wednesday Mar 16, 2022
#137 - The Right Risk Conversation with Danny Lopez of Glasswall
On this episode of Transform Talks, Danny Lopez, CEO at Glasswall, joins host Maria Villablanca. 
Glasswall, an award-winning cybersecurity firm, offers protection against file-based threats. 
Danny shares insights into the changing dynamic of the security landscape. With Covid, there was a rapid acceleration to digital and operating on the cloud. With this transition, the field and dynamic of cyber risk have evolved.
Currently, there are threats present with the war in Ukraine. Danny dives into his recommendations for emergency preparedness, shedding light on business continuity. How many areas of the supply chain are at risk for a company? To ensure maximum preparation, secure and protect as many threat vectors as possible.
The reality is you can only fight tech with tech. So, acknowledge that companies will be relying on cyber solutions to minimize risk. Then take this concept and apply it to employee education. Encourage employees to speak out on email abnormalities; too often, malicious emails go unannounced when they could have been stopped and contained before a catastrophe. 
Listen in to the full episode to learn more.